The best school trips and sports camps are in APLEND!
Let your children / students have a few days of rest and fun, during which they will forget about stress and school duties! We will help you organize an unforgettable school trip under the Tatras, from which you will not even want to end. Whether you are looking for the perfect place for a school trip at the end of the school year ... or you want to weld a new team together right after the first autumn ring, APLEND Tatry Holiday Resort in Veľký Slavkov is the best choice.
For the past ten years, APLEND Apartments & Resorts brand has been providing first-class services, comfortable accommodation and a professional approach in the domestic tourism sector. Over the past decade, we have accommodated thousands of satisfied guests, hosted countless school trips or camps, created beautiful teambuilding memories for many companies ... and we are here for you too!
Whether you are planning a school trip for a kindergarten / primary / secondary school, summer school or ski / swimming camp in the High Tatras, APLEND Tatry Holiday Resort is the ideal solution for you. The spacious resort with many outdoor sports activities and accommodation for 177 people is, with its rich experience with school trips, predestined for unforgettable moments under the Tatras.
Tatry Holiday Resort is situated in the small village called Veľký Slavkov, only 2 km from Poprad and 7 km from the central zone of the High Tatras. The High Tatras are easily accessible by Tatra electric railways (10 minutes walk) or by ski bus during the winter months. The proximity of Poprad is especially useful for those who come under the Tatras for swimming camps.
The season of school trips and sports camps lasts in APLEND Tatry Holiday Resort practically almost all year. The only exceptions are the months of the summer season - July, August.
TOP group accommodation
Tatry Holiday Resort in Veľký Slavkov is an ideal place for group accommodation under the Tatras. The resort offers holiday homes (4 - 12 people) and cottages (5 - 8 people), as well as spacious apartments (4 - 8 people) and practical studios (2 - 3 people). Each accommodation unit has its own bathroom with a toilet and a fully equipped kitchen.
The price of accommodation for a group of 15 or more people is 17 EUR / person / night. The price does not include local tax in the amount of 0.75 EUR / person / night.
However, the advantages of APLEND Tatry Holiday Resort do not end with group accommodation! The resort also has a traditional Slovak restaurant Salaš, which offers all types of boarding for school trips and camps.
Children under 12 years
Breakfast *
5,50 EUR
Lunch *
6,50 EUR
Snack package *
5,50 EUR
Dinner *
6,50 EUR
Half board *
12,00 EUR
Full board *
18,50 EUR
*The special diet is increased by 2,00 EUR compared to the price list.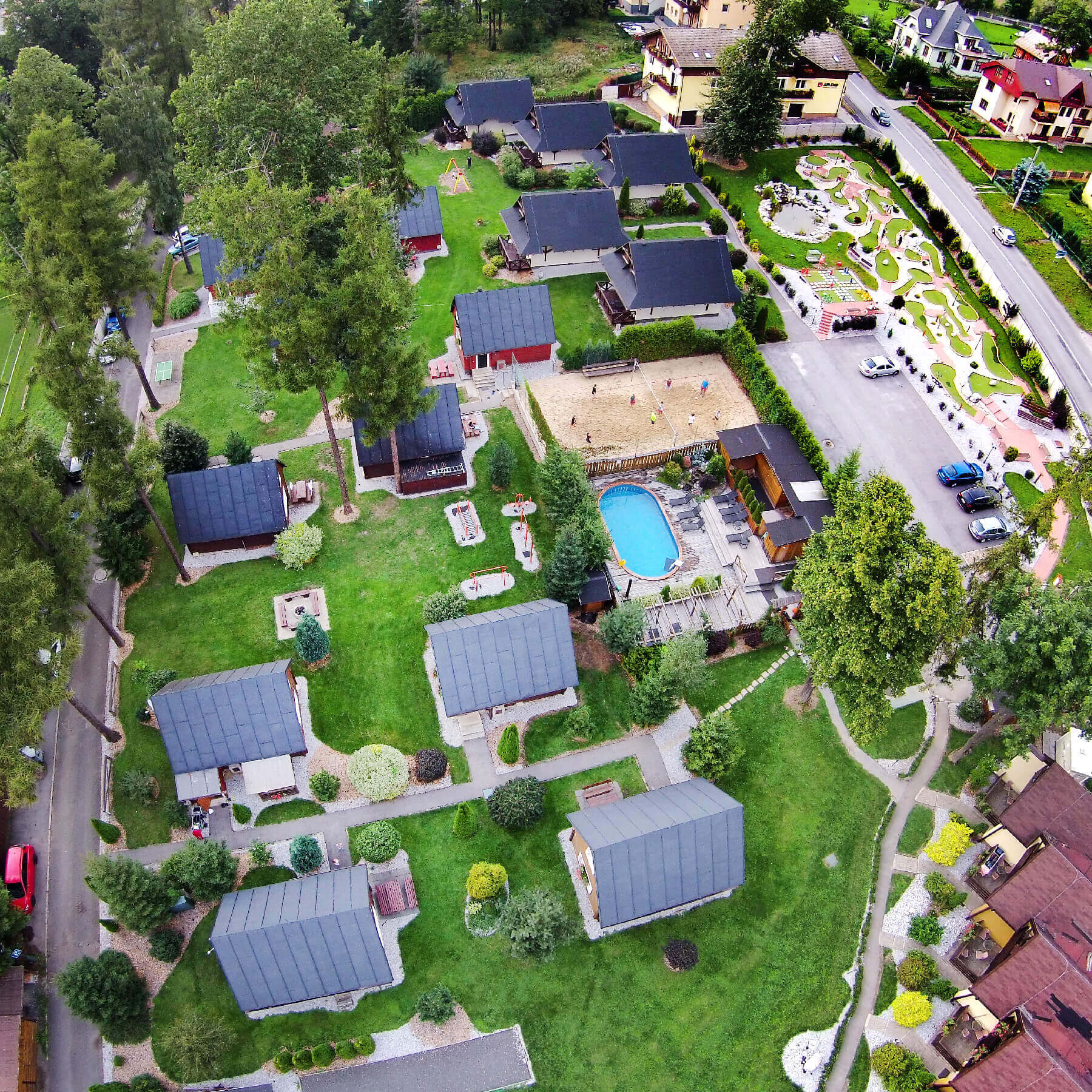 Outdoor activities of the resort
APLEND Tatry Holiday Resort offers a wide range of outdoor activities that please both young and older children!
A guarantee of fun and pleasant moments spent together is, for example, a unique 18-hole minigolf pitch or MAXI Man, do not get angry!
You can also strengthen the team on the beach volleyball court, tennis courts or petanque court.
The youngest guests will also enjoy children's swings, slides and other fun activities of the playground. On warmer days, we are delighted to welcome children in a fairytale children's house full of various toys.
The complex is also equipped with a Finnish sauna, unheated relaxation pool measuring 9 x 4 meters (during the warmer months) and a private whirlpool (during the cold months).
We will make sure that your school trips and sports camps are truly unforgettable! We will be also happy to help you with the fantastic children's animation program or sports program for groups!
*Some activities at the resort are subject to a fee.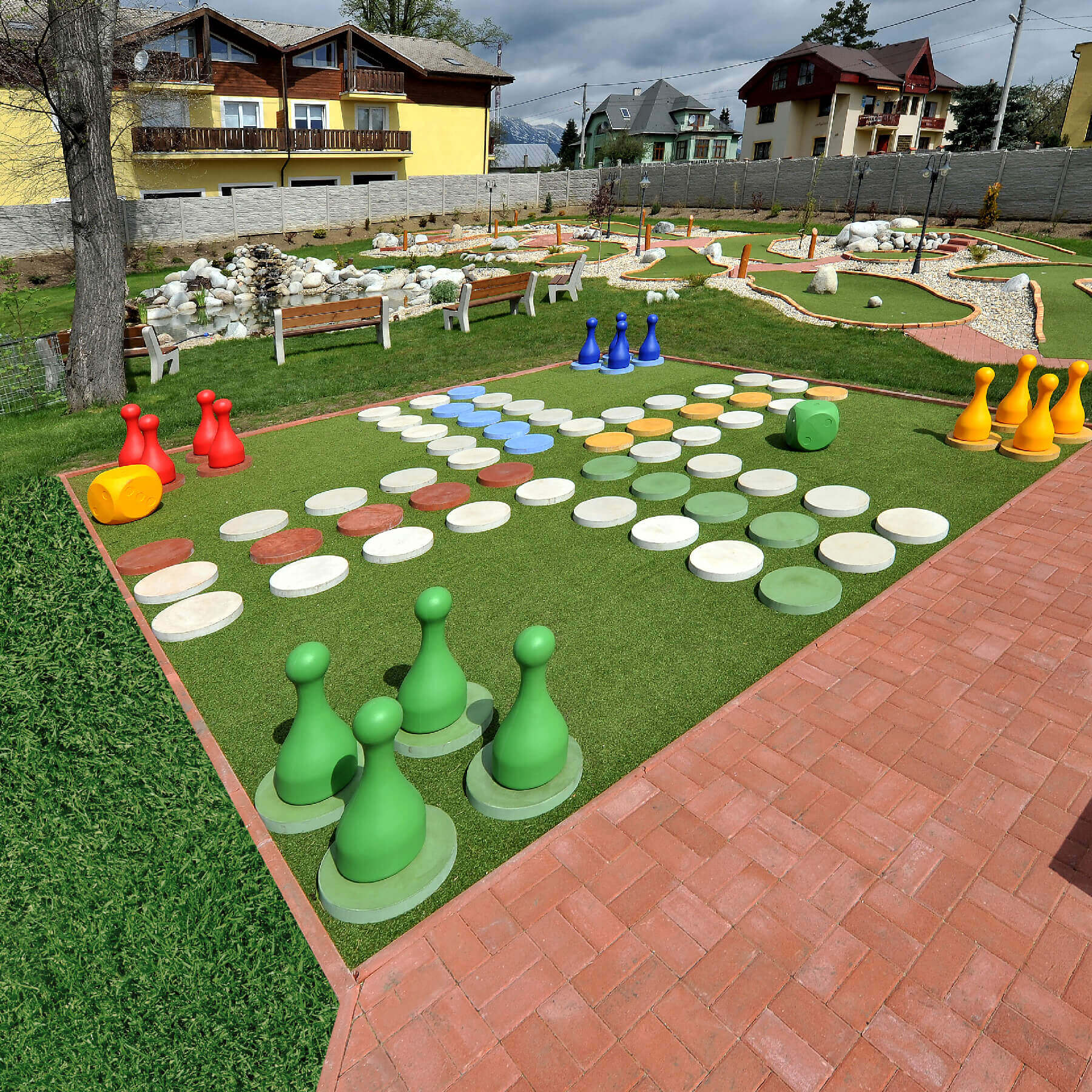 A campfire is a "must be" part of every good school trip or sports camp! The resort offers several fireplaces designed for grilling and two grills with gazebos for a small group setting.
Do not worry about the campfire materials and equipment! We will be happy to sell you wood or briquettes at the reception of the Tatry Holiday Resort!
If you are interested in securing meatballs / sausages / other types of meat, do not hesitate to contact us!
Accommodation
Sports fields
Parking
Wellness
Grill / Campfire
WiFi